Media and the arts are driving forces in today's society with our students receiving thousands of messages each day.  Many of these messages have nothing to do with Christ or living a life that is pleasing in God's sight.  As a result, After The Music Stops has partnered with some of the best artists in the industry to provide high energy and high impact tours, shows, and events for your church, youth ministry, and/or organization.  Below please see a brief description of each artist and tour, for more information please email info@afterthemusicstops.org, call 301-755-9495, or click the booking link.
Stephanie James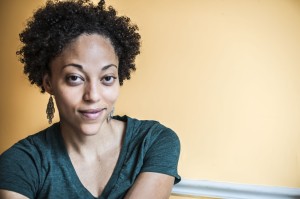 Stephanie Michelle James also known as "Just A Vessel," is a poet, vocalist, speaker and host. Her mantra is "If I inspire you, you are my inspiration." Originally from Colorado Springs, CO her passion for ministering in song and poetry began in 2004. She began her spoken word ministry at her alma mater, Hampton University.  Currently residing in the DMV area she has quickly made a name for herself in the local open mic venues, universities and businesses. Starting with her band, "Playlist" in 2013, she was named band leader and lead singer. "Playlist" has serenaded over 60 weddings in the DMV and PA areas. This year she also ignited her hosting career at Spirits & Lyrics Open Mic venue which takes place the last Sunday of every month in Rockville, MD.
In addition to her normal passions, Stephanie was 1 of 6 reporters in the country selected for the pilot TV series for Frito Lay North America (FLNATV) covering innovative topics nationwide over four episodes.  She has been the featured guest poet and songstress at the popular Bus Boys and Poets franchise venues, National Air and Space Museum, Fighting Cancer with Poetry event, Four Seasons, Ritz Carlton, Washington Adventist University, The National Association for Black Accountants Annual Brunch, Archbishop Catholic School, Reid Temple AME and the Annual Lupus Gala to name a few.  In 2012, she published her first book titled Just A Vessel: Your Weekly Inspirational Messages. Her first album titled "My Heart's Beat" was released on May 31st, 2014 at Warm Wednesdays, which was the longest and largest weekly open mic venue in the country.
Stephanie is a world traveler and has performed in countless venues across the country and internationally. Since the release, "My Heart's Beat" has traveled around the world to places including Hong Kong, Greece, Canada and Australia. It has been distributed in over 30 states throughout the US and is available on iTunes, AmazonMusic and GooglePlay. She is currently working on her second project to release early/mid 2016.  Visit her site for more details www.justavesselpoetry.com
DJ Mr. E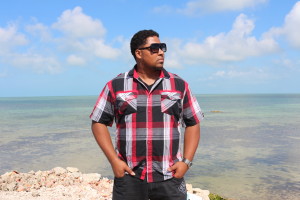 Edingston Jackson AKA "DJ Mr. E", accepted his calling from God to launch into Full-Time ministry as an Urban Missionary serving in the city of North Miami, FL. Eddy has traveled extensively sharing the Good News of Jesus Christ through his rare and unique gift of music ministry through DJing and HipHop.  There are very few, if any other, DJ's who are able to engage students with "Christ" centered music the way Eddy can.  No matter the venue or event style he has a playlist that is sure to not only make students and leaders remember him but also draw them closer to Jesus.
Eddy is also the co-founder of Soul Movement Crew, a full-service Christian entertainment company, based out of Miami Florida.  For more information on DJ Mr. E and Soul Movement Crew please visit http://soulmovementcrew.com/
The McKains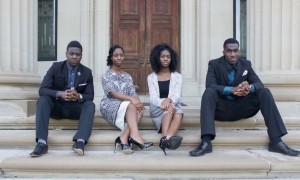 Have you ever heard a song sung by a group that impacted you so much that you continued to sing parts of that song through the day and even the week?  The McKains are that kind of group with that kind of not just talent but anointing to usher students and adults into the presence of God.  The McKains are four siblings that have been singing together for 15 years. They sing original songs that God has blessed them with, and they have also released four albums. Their most recent project was released in July 2015 titled "Unfailing Love – EP".  They are from Maryland but currently live in Connecticut. Their dad pastors a church, "Apostolic Refuge Tabernacle" in Ansonia, CT.  They have ministered in many places in the US, including, NY, CT, Massachusetts, Maryland, VA, Georgia, Arkansas and Florida. They have also ministered outside of the country in Canada, Jamaica and Trinidad.  They hope that you are blessed by their music for more information visit http://www.themckains.com/
The Experience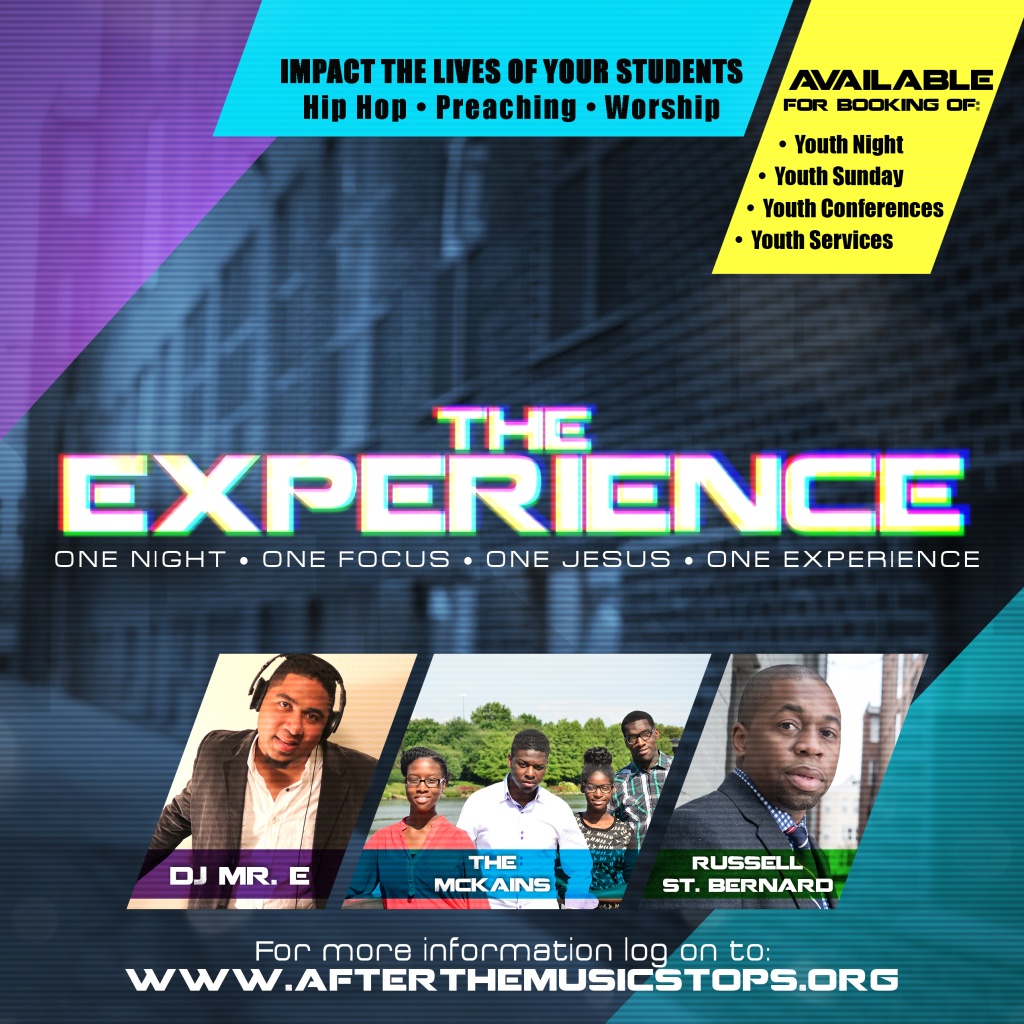 What is "The Experience"?
A night of Hip-Hop, Reggae, Praise & Worship, Preaching and more all designed to encourage students in their faith.  "The Experience" begins with an energetic set by DJ. Mr. E, full of Gospel music from various genres, that is sure to have every student on their feet.  Next up The McKains will continue to usher in the Presence of God by leading the students in a compelling worship set, designed to help them internalize their praise and worship.  Then, Rev. Russ will preach a powerful Word from God in a creative and interactive way to engage the students.  The night will end after a call for Salvation and relationship with Jesus Christ and a party set by DJ. Mr. E and The McKains.  For more information and to set a date for "The Experience" click the button below or email info@AfterTheMusicStops.org.
Video